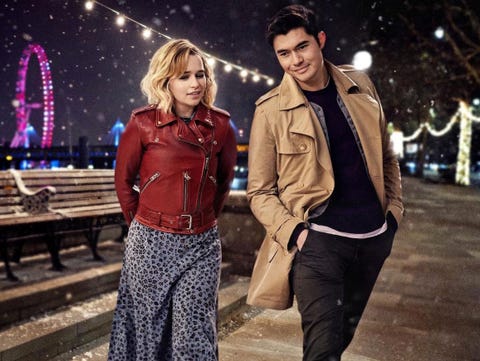 Last Christmas is a Christmas tale with an out-of-place musical hook that works better than it should.
Kate (Emilia Clarke) finds her life at a standstill-mostly homeless and frequently drunk with a loss of ambition or drive. She is about to get fired from her job as an elf at a Christmas-themed store when she meets the jovial, yet mysterious Tom (Henry Golding), who helps her usher in a new era of her life. Kate begins to help the ones she has done wrong and view the world in a more positive light as the Christmas holiday draws near.
Emilia Clarke gives a surprisingly layered performance as Kate. Her character is written fairly blandly, but Clark gives her depth where the screenplay doesn't. Henry Golding plays Tom with exuberance and energy. His thoughtful approach to life makes him a nice foil to Kate's blatant cynicism. Emma Thompson puts on a Slavic accent in a scene-stealing comedic performance as Kate's painfully honest and worrisome mother. There are some moments in this film that are painfully reminiscent of other films in the romcom lexicon, but there's a consistent charm here throughout, more earnest than it is contrived. This charm is amplified by the likability of its two lead stars, Clarke and Golding. 
The film is soundtracked by the music catalog of singer George Michael. It serves as a smooth transition between tunes and you could certainly pick songs much worse than these to back up your film, but it sometimes feels tacked-on and gimmicky. It doesn't fit in with the rest of the film. Last Christmas has a third act that turns the movie on its head and while the shift isn't necessarily shockingly surprising, it's well-executed and recontextualizes much of what has come before. For a film that hinges much of its story on a single Christmas song, I found myself being unexpectedly moved by it. There is a touching story here about doing the good for others that we're all capable of and not letting hardship keep you from your full potential.
In the end, we go to the movies to be entertained and in that respect, Last Christmas certainly gets the job done.
★★★★★